How to buy Origin, Uplay, Social Club accounts?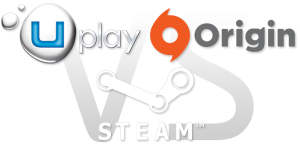 ---
Remember the main thing:
Account – is a data for sign in client (Origin, Uplay, Steam, Social Club). Account has purchased  games. Account is ten times cheaper than real games cost. Get expensive top games for a penny!
Where you get accounts?
These accounts had an owner. Here it is a problem. If you have a login and password, the owner may eventually notice you and change the data, but if you have the answer to security question and you have changed all the data, then the owner may recover through tech support, but this not always works + it takes a long time. If the former owner have not played in via account or are not able to restore it through technical support, congratulations – you get account forever and all games too! Otherwise only temporarily. Usually recovers only accounts with new just relied games. All games, which is more than half a year practically are not restored.
What kind of accounts exist?
Origin:
1) Login + Password – the cheapest account, You can not change the data on your own.
2) Login + Password + secret question answer – You get full access to the account and can change all the data on your own.
Uplay:
1) Login + Password – You only get a login and password, you can not change anything, but usually all accounts abandoned and very reliable.
Social Club (Grand Theft Auto 5):
1) Login + Password – You only get a login and password, better don't change anything in this type of accounts.
The sense you need to know:
1) All accounts are guaranteed for the first 2 days after purchase. (if You have any problems – contact us. We shall solve it. )
---
IMPORTANT!!!!!!!!  If the purchased commodity does not work, write on the page, where there was a paid goods with a request for replacement in correspondence!!!!! NOT IN REVIEW!!!!!!!. Waiting for some time (during the day, maximum – 2 days), and obtain a replacement. DO NOT FORGET to go back into the correspondence for replacement.
---
2) Accounts can have a lot more games, than you bought. Usually a couple of top games are available for free, if you are lucky.
3) It all depends on luck, if you are lucky and the former owner does not log in your account then you may play forever. But former owner can restore access to account and change password. Usually games that were released more than six months ago are already considered stable and largely remains forever.
4) The responsibility for an account after purchase rests solely on You. We do not resell the same accounts and restore access to them. It can only make the owner. We just lie down reserve accounts before selling to those who want to recovered, and those who have not regained – their accounts go on sale.
5) If there was force majeure, the account is not changed and it is non-working (replace throughout the day), then leave negative feedback.
---
Now consider an example of buying in oplata.info
1. Select the commodity of your choice
2. . Click the link, enter your email and payment method. There are available many payment methods.
3. Pay goods by chosen method.
4. After payment it redirects us into this page. There we see paid goods – login and password. We use it to log in Origin.
If you have received wrong username and password, you should immediately write in correspondence (on the buyer Office page), not in review, the request to change the account and wait for replacement. (from 5 min to 2 days). In order to enter  correspondence again – use this link and authorize.
5. Enter Origin with purchased data, go to the tab games, download and install games you need. As you can see I got more games than bought! And it works!
6. Play)))) Please leave good comments in the column – review.